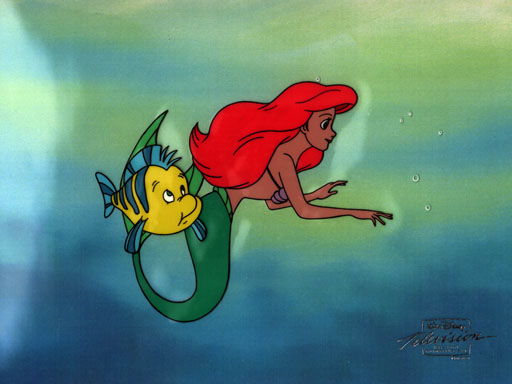 This is an original production cel from the episode The Great Sebastian (Show 1, Scene 104) of Disney's The Little Mermaid television series (1992) on a Disney photographic background. Ariel, realizing how she can help Sebastian, swims off with Founder.
This cel was actually photographed to make the show. It is a two cel setup: The bottom cel contains Ariel and the top cel contains Founder. I also own the clean-up drawings used to make this cel. The shimmering, lighter areas around Ariel are artifacts of scanning the cel after it was framed.
The actual cel size is 8" x 10" (HxW). The size of the painted image is 5" x 5.5".
To see a 1024x768 image, click here.
---
You can read more about collecting animation artwork.
Go to Dave's Animation Art Gallery or Dave's Disney Obsession page.
More about me.
Problems? Feedback? Send me e-mail.