Triton Reprimands Ariel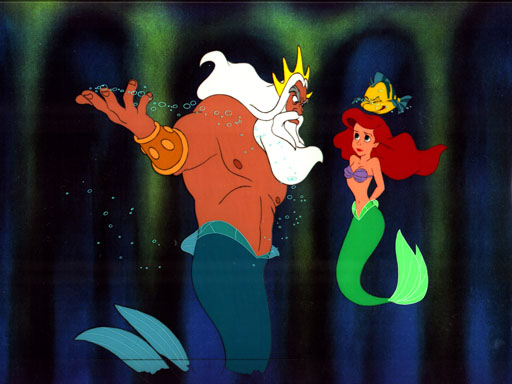 This is an original production cel from the Disney movie The Little Mermaid (1989) on a Disney photographic background. King Triton reprimands Ariel and Flounder for going to the surface.
This cel was actually photographed to make the movie. It is a three cel setup: The bottom cel contains Ariel and Founder, the middle cel contains Triton, and the top cel contains the special effects (bubbles).
Notice that the middle of Triton's tail is missing. The horizontal line just above where his tail disappears indicates where the bottom of the camera view will be. There was no need to draw or paint below this line.
The actual cel size is 10" x 13" (HxW). The size of the painted image is 8" x 8".
To see a 1024x768 image, click here.
---
You can read more about collecting animation artwork.
Go to Dave's Animation Art Gallery or Dave's Disney Obsession page.
More about me.
Problems? Feedback? Send me e-mail.