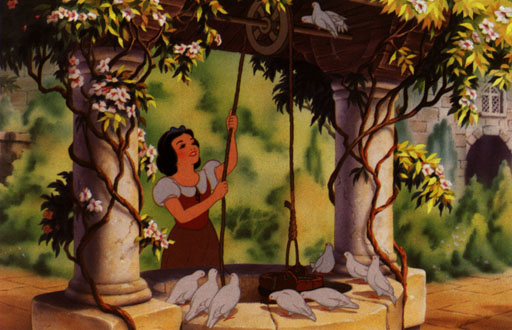 This is a limited edition cel (no. 141 of 275) from the Disney movie Snow White and the Seven Dwarfs (1937) (sequence 2-A, scene 8) on a Disney photographic background. Snow White draws water from the well as she sings "I'm wishing for the one I love to find me today".
A limited edition cel is a reproduction of the cel used in the movie. This cel was created in 1992. It is hand-inked and hand-painted, just as the original cel was. ("Hand-inked" refers to the first step of tracing in ink the outline of the character onto the cel from the clean up drawing.)
The actual cel size is 11" x 15" (HxW). The size of the painted image (Snow, birds, rope) is 8" x 7".
(The scanned image of this cel is not from the cel itself, but from a photograph of the cel.)
To see a 1024x768 image, click here.
---
You can read more about collecting animation artwork.
Go to Dave's Animation Art Gallery or Dave's Disney Obsession page.
More about me.
Problems? Feedback? Send me e-mail.