Jasmine Splashes Aladdin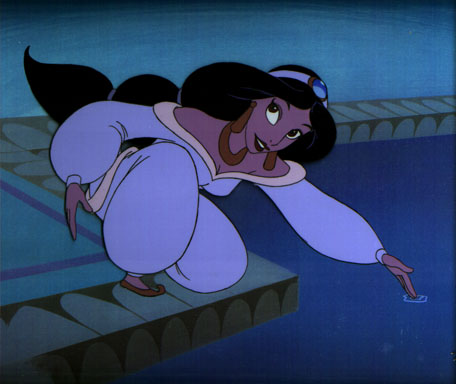 This is an original production cel from the made-for-home-video Disney movie The Return of Jafar (1994), which introduced Disney's Aladdin television series, on a Disney photographic background. During the song I Can't Forget About Your Love, Jasmine prepares to to playfully splash Aladdin; this scene takes place at night.
This cel was actually photographed to make the movie. I also own the clean-up drawing used to make this cel.
The actual cel size is 9" x 12" (HxW). The size of the painted image is 6" x 9".
To see a 1024x768 image, click here.
---
You can read more about collecting animation artwork.
Go to Dave's Animation Art Gallery or Dave's Disney Obsession page.
More about me.
Problems? Feedback? Send me e-mail.