Hydrolysis
B.T.T. Master Index
Primer
---

---

---

---

---

---

---

---

---

B. T. T.

---

---

---

---

---

---

---

---

---

Basic Tactical Training
Exercise B1-2:
"Four Rooms"
"Communication is inarguably the lifeblood of the army."
~ General Morgan Hasek-Davion
<< March 23, 2001 >>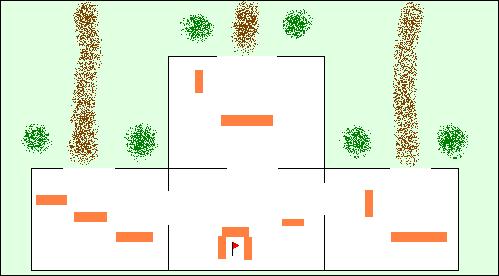 You had to hold for five minutes. Only five minutes . . .
There were four rooms, with a flag in the middle room. If an enemy so much as touched the flag, you lost. Anyone who was hit was permanently eliminated. And you only had to hold for five minutes.
But the enemy had ten troops, half with XXP 175s, and half with CPS 1500s. You only had seven troops, yourself included. Your armory consisted of an XP 65, two XP 105s, two XXP 175s, an XP 250, and a CPS 3000. A bit lopsided, but there was nothing you could do about that.
You glance at your watch. Only another minute to get set up before the enemy charged -- charged from where, you couldn't guess.
You turn to your team. "All right, we've got to set up fast. Here's what we'll do . . ."
Determine the deployment of your troops only. It is not required to submit a battle plan, but be sure to indicate your reasoning.
If you would like your deployment posted on this page and evaluated, send it in by email. If you would like an evaluation by email instead of on this page, or wish to remain anonymous, please say so.
<< March 27, 2001 >>
I would put one man in each of the rooms surrounding the flag and hide them behind the barricades (xp65 & 2 105's)
The man with the CPS 3000 would get next to the flag as a last line of defense. The remaining three would guard the doorways leading into the middle room.
~Rob Mercer
The only problem I can see with this is that you're spreading your troops out an awful lot. The attackers will only need to fight one or two of your troops at a time most places (with the possible exception of the middle room, if they attack from only one direction), and because this is one-hit elimination, one lucky shot is all it takes to remove one of your defenders (this would particularly be a problem against the CPS 3000, because if he gets taken out you will almost definitely lose).
Because you have a time limit working for you, you might want to consider setting up your troops to create delays rathe than eliminate attackers. If you can keep them pinned for a while, you don't ever need to actually hit them.
<< June 8, 2001 >>
Before I start the actually formation, I'm going to assume that the enemy Monster is in fact a 2001 Monster, not a Monster X.
There's no enemy monster here. I think you meant to put that at the beginning of your solution to exercise B1-1.
Would you actually change your plan depending on whether it was a 2001 Monster or a 2000 Monster X? Think about it . . .
Take the XP 65, the CPS 3000, and one of the XXP 175's and put them in the doorway of the left room that leads into the center room. Take the other XXP 175 and the XP 250 and put them in the doorway of the upper room that leads into the flag room. Take the two XP 105's and put them in the doorway that leads into the flag room. Now, the forces aren't too spread out, what I mean by spread out is if the enemy attacked the right room with all ten of it's troops, the other five of my troops could get there to help quickly. Also, I don't want to bother with putting a "last-line of defense" by the flag because it's a waist. I'm going to assume that we are just outside of the upper room door, so some of the troops might have to jog a bit to get to their positions, as we only have one minute left.
~Sapper (Spartan Federation)
I'm a bit concerned that you're potentially giving up a lot of cover. The barricades should be WAY easier to defend than a huge doorway. Also, in the event that the enemy attacked from more than one direction, if any of your defenses were breached, whatever troops you had left could be attacked from both sides at once -- in short, if any of your defenses fall, you're in big trouble. Of course, that would also be true if you had your forces in different rooms and unable to help each other.
So, compared with putting these same forces into fortified positions in each of the three exterior rooms, this looks like it would be better at repelling an attack from one direction, but worse if you were attacked from all directions. The trade off is pretty close, I guess it would depend on your best guess about whether your enemy would keep his forces together or divide them up.
Also, I'm not convinced that putting your troops around the flag would be a bad idea. For example, if you put ALL your troops there, then assuming they all fit into well-defensible positions, you're forcing the enemy (effectively) to attack from only one direction, and using all your forces to defend it -- provided they didn't get the small barricade in the room, you'd probably have the advantage with all that cover and your enemy in the open. Choosing not to do that is perfectly fine, but give a better reason than "it's a waste."
<< September 9, 2001 >>
The deployment is as it is on the map. The CPS 3000, being the biggest, is given cover and therefore doesn't have to move around much when we are attacked. The troops are in the same room so that they can give each other support and are not "locked in place". Each soldier can move around in a little bubble to a certain extent. This allows them to dodge more effectively. I was careful to make certain that my troops were not to thinly spread but not to packed together. The key is listed below:
Blue - CPS 3000
Orange - XXP 175's
Green - XP 250
Brown - XP 105's
Purple - XP 65
~Sapper (Spartan Federation)
<< May 11, 2002 >>
I WOULD PUT THE MAN WITH THE CPS300 & A XP175 , THE CPS3000 NEXT TO THE FLAG & THE XP175 TO THE LEFT HAND SIDE OF THE DOOR TO THE TOP ROOM.I WOULD THEN HAVE THE CPS1500 & XP105 IN THE TOP ROOM. THIS WAY ASSUMING THE ATTACKERS ARE SMART THEY WILL SPLIT IN HALF & ENTER THROUGH THE LEFT & RIGHT ROOMS THIS ALLOWS YOU TO HAVE A NASTY SUPRISE FOR THEM OF A CPS300, CPS1500, XP175 & XP105 WAITING FOR THEM & IF THEY ARE NOT CLEVER THEN & THEY ENTER THROUGH THE FRONT THEY HAVE A BIG CHALLENGE.THE XP65 & XP250 IN THE ROOM ON THE LEFT. THE XP175 & XP105 ON THE ROOM TO THE RIGHT. THIS BALANCES OUT WEAPONRY TO EACH SIDE GIVING EACH OUTER ROOM MAXIMUM SAFE WATER POWER.
~By CraZy ChrIs